Perana Sports at the tennis
Japan's Naomi Osaka defeated Jennifer Brady 6-4 6-3 in the final to capture her second Australian Open ladies single and her fourth Grand Slam championship in the past three years. This period of dominance coincides with Japan Tennis Association (JTA) decision to licence Perana Sports' TennisStats app back in 2018. A decision that has been greatly rewarded with Japan's returning to the Fed Cup world group and Osaka's meteoric rise. JTA's now have their sights set on a gold medal at the Tokyo Olympic in August, which looks very achievable right now.
TennisStats has also being used extensively by Tennis Australia in supporting all Australian players for the last six years. The rise of Ashleigh Barty to world's number one and a number of great results by other Australian players are a testament to the effectiveness of the app in self assessment, as well as analysing strength and weaknesses of their competition .
TennisStats was used at the recent ATP Cup by the 16 competing teams to allow coaches and players to access stats and videos of matches played during the tournament. A special live version of the app was also made available to teams court side which streamed live stats and videos in one package. This gave coaches and players access to in-depth reports of the matches as they were being played in real time and adapt their game plans accordingly on the fly. This innovation was well received by all the teams and might become a regular feature at tournaments where on-court coaching is permitted such as the ATP Cup, Davis Cup and Fed Cup.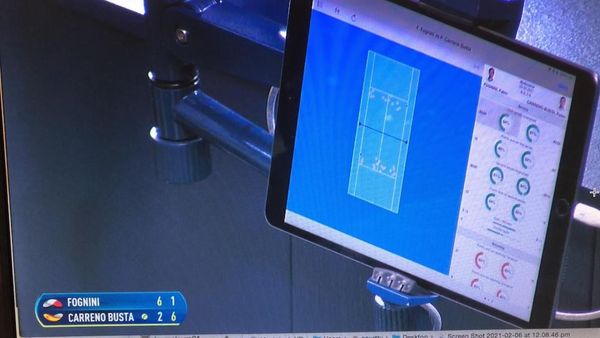 photos courtesy Reuters, ATP Tennis TV, Channel 9